Chris Kempczinski, CEO of McDonald's Corporation, is asked if Kevin Ozan's departure is related to the criminal RICO case targeting them.
Click this link to see the original LinkedIn post.
Dear Mr. Kempczinski,
Is Mr. Ozan's departure related to the criminal RICO case targeting McDonald's Corporation and if yes, to which extent is it related? (look at the screenshot 👇 to understand)
You also mention Mr. Ozan's "unwavering integrity," could you please confirm he reported internally my stern warnings about the crimes McDonald's is engaging into?
As the CFO, he obviously should have understood McDonald's Corporation is engaging in money laundering, shouldn't he?
I ask because based on the transcripts of phone calls between MCDC's executives and investors, I am under the impression that Mr. Ozan might have, instead of trying to make it stop, partaken in this criminal enterprise McDonald's currently keeps engaging into.
Respectfully Mr. Kempczinski, I think more transparency is in order.
Thank you sir.
X. (Anonymity granted by decision of the European Court of Human Rights)
Cc Federal Bureau of Investigation (FBI) (Jarrad Smith, Mahonri Manjarrez)
Cc Neuberger Berman (George Walker, Daniel Tracer, Brad Cetron)
Cc Norges Bank Investment Management (Nicolai Tangen, Carine Smith Ihenacho, Trond Grande, Dag Huse)
Cc Prudential Financial (Charles F. Lowrey, Jr., Janice Kioko, Ann Kappler)
Cc Desiree Ralls-Morrison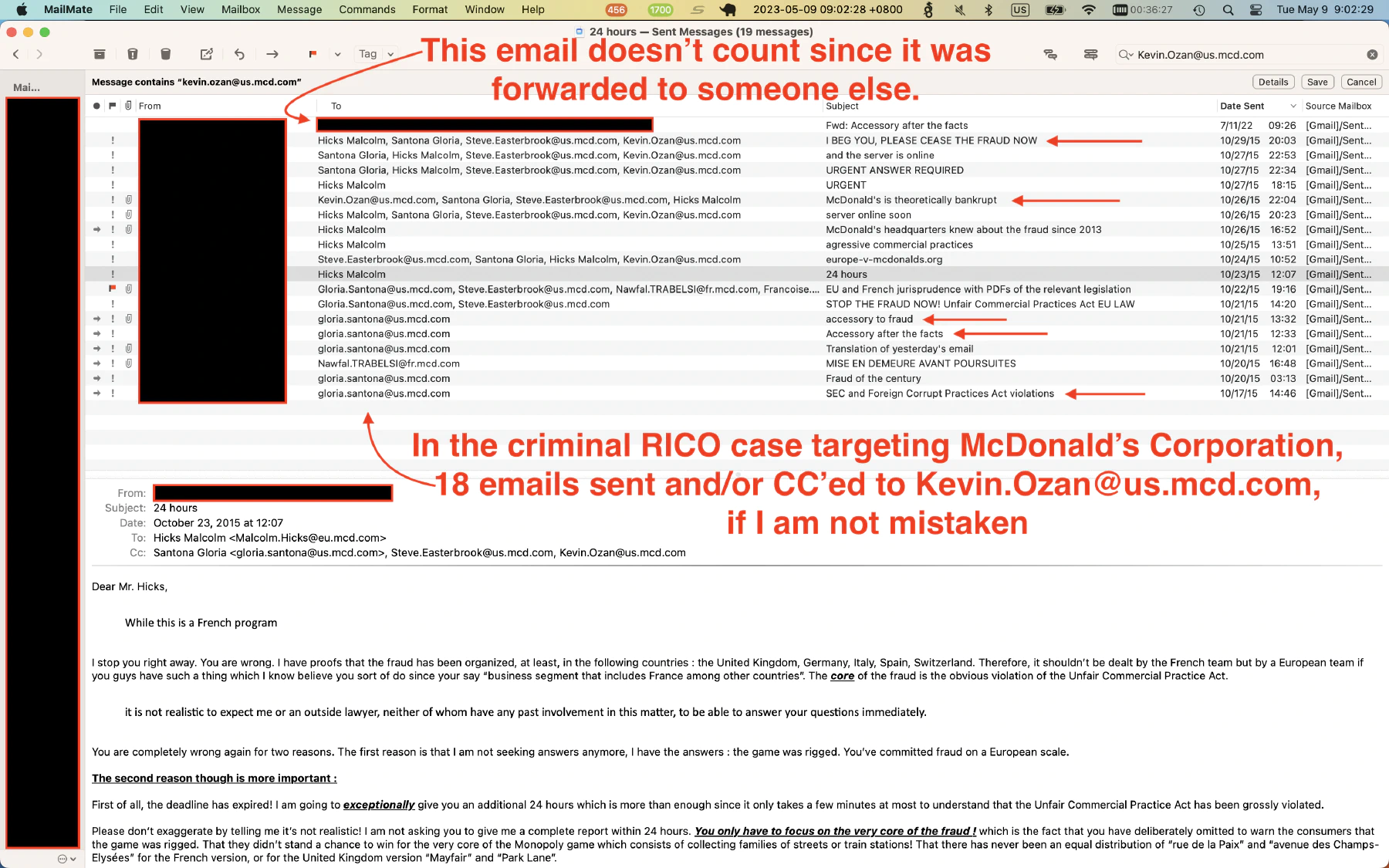 Click on this link to visualize the original document: screenshot-2023-05-09-at-0902_0800.png